You Must Do These 11 Business Photoshoot Poses (for Creatives)
So the time has come: you must create or spruce up your business website or grab a new LinkedIn headshot. Perhaps you are a genius graphic designer, social media guru or photography expert. It's key that you have a photoshoot that truly expresses your self identity and your business mission. These 11 business photoshoot poses are the ticket to showing your true personality while also asserting your authority in your niche (and your heart that goes into it).
After grabbing a few clients at the start of my career earlier this year, I invested in my first business photoshoot and subsequent photoshoots every other month after gaining a steady (almost full!) client workload. Having consistent business imagery (whether this includes flat lays and styled product imagery or photos of yourself in the spaces you most love) is key to curating beautiful, cohesive social media feeds.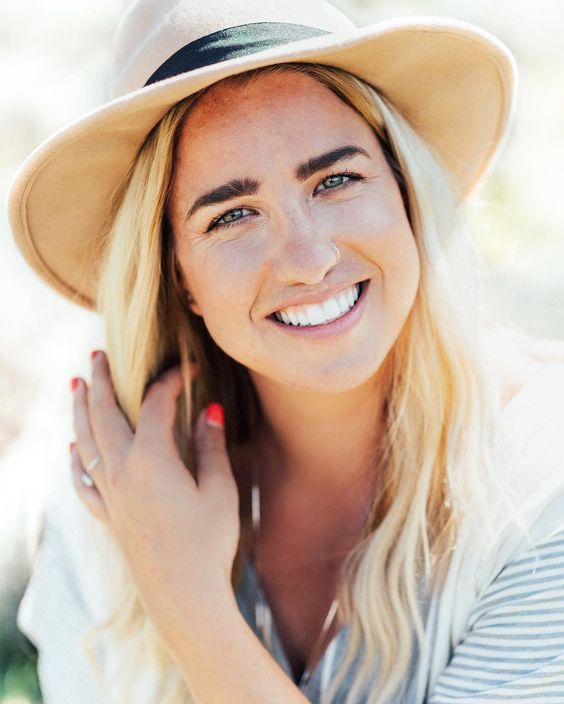 1. The Joyful Candid Smile.
photo cred: Jenna Kutcher
Finding what makes you smile like Miss Jenna here is a breeze if you have a skilled photog with all the right techniques! First: think about the location in which you'll be shooting. Pick a spot that brings joy to your heart and soul and inspires you within your business. Then: don't get too perfect! Let loose, let it happen as it's meant to happen and your trusty photographer will capture the vision you have in mind.
2. The TOP KNOT &
Cell PhonE.
photo cred: Social Studio Shop
Top knots are ALL THE RAGE lately (and I can't blame you girls - they're SO cute!). If you are a young, millennial business owner, you can tap into the latest fashion trends and hair styles/makeup looks that are subtle enough for business, but beautiful enough to help you stand out from the masses. While no, I am not a fashion designer, my business, "Fashionably Frank Marketing" is setting a certain sort of expectation for my clients. They expect me to be fashion-forward and keen on design aesthetics. Presenting myself as such in my branding photography is so necessary. It also overall just gives off better vibes about your biz and encourages people to think highly of you... even if your desk, car or purse is secretly a mess! ;)
3. THE "MAN-SPREAD" & SMIZE.
photo cred: Heidi Hapanowicz
This fab femme chose a subtle "man-spread" position for her knockout headshot. A stark difference from the rest of the poses listed in this blog post: when taking one glance at this gal's photo, a strength of masculine assertion rushes over you. Rarely seen in female entrepreneur photoshoots, man-spreading in a pantsuit asserts your authority, power and makes you appear even more competent than your testimonials!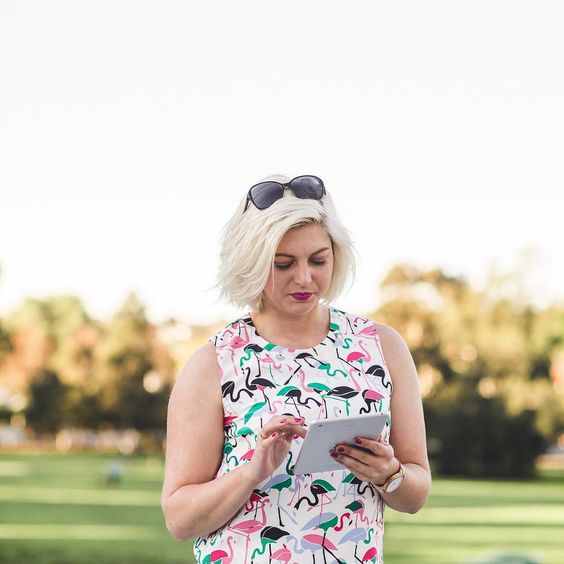 photo cred: Nell Casey Creative
Especially necessary if you are a graphic designer or digital marketing specialist and you're often one with technology! Grab your phone or iPad/Macbook Air and hit the streets. Snuggle up to a cute coffee shop table or stand in front of a cute colored/textured wall. Show 'em what you're made of, #girlboss!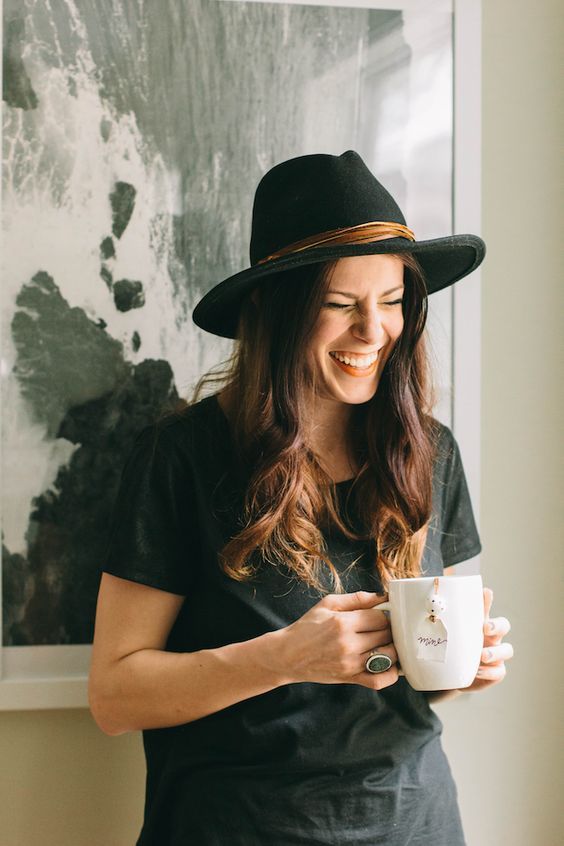 5. BELLY HURTS FROM LAUGHS.
photo cred: www.brianneerman.com
People want to see you having fun and being playful - not just giving the Tyra Banks "smize" for your headshot image. This adds depth and personal touch to your presentation - it says: "Look at me - I'm someone you want to collaborate and hangout with!" No one will hire someone as stiff as a board to design their new branding or take their family portraits.
photo cred: Social Studio Shop
You want to give your potential clients or customers the true behind-the-scenes look at your family, your life and your passions that make you, well, YOU! Doesn't matter if you take a shot at your fave local coffee shop with your baby in tow or you pose for a slice of pie at your dream pizza joint: give them a look inside your daily life.
7. The Wind In Your Hair.
photo cred: Bloguettes
Easy, breezy, beautiful... CoverGirl?
This type of shot can give the illusion that you are totally carefree (even if that's not always the case). When conceptualizing your branding photoshoot, think about the idea you want to convey to your client/customer: do you want to provide them with a carefree, stress-free lifestyle? Then show them that you walk the talk, too.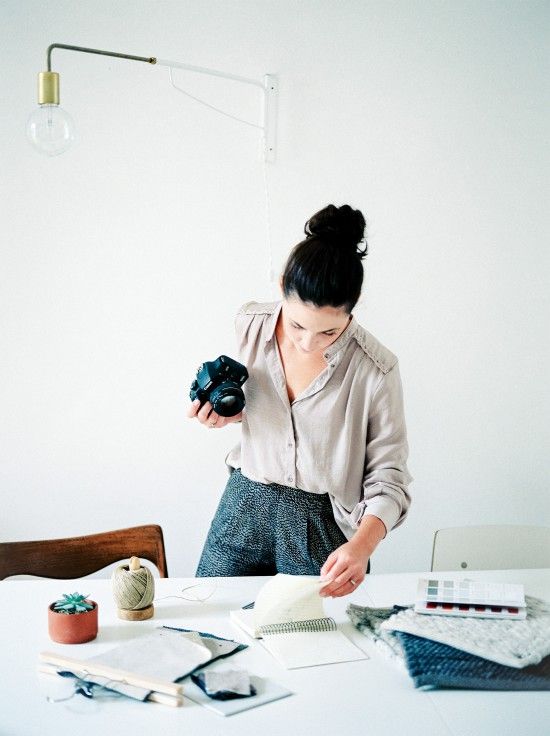 photo cred: Avenue Lifestyle
Whether this means you are editing images, creating brand boards, taking photos, designing a client's website or Instagramming your fave client's images: you need a shot of you doing the actions that you would do on a regular basis in your business.
9. THE PUP (OR OTHER PET).
photo cred: Bloguettes
ESPECIALLY take these shots if your animal(s) is a big part of your business (either inspiring the name or is part of your "staff" lineup). On the blog here at Fashionably Frank, we put Fat Louie the cat on a serious pedestal. He is our "Creative Director" and has his very own bio. Adding animals is an instant charmer!
photo cred: Social Studio Shop
If you have anyone else working for you in business, showcase them in your branding photoshoots, too! They are just as important as you and vital for mention as they greatly contribute to your success. For example: subtle "mid-work shots" like this one displayed on the right shows a unique behind-the-scenes relationship that you might not have had the chance to see otherwise.
photo cred: Bloguettes
Not only should you be showcasing your most professional, "on point" side of you: you should show your fun side, too! These totally Instagram-worthy shots are perfect to fill up your social media feeds (maybe they're not the first thing you showcase on your website's hero banner, but I mean, they're cute, right!?). Keeping the same general photography style (or photographer) ensures that you are left with a feed to cherish for years to come.
Which of these business photoshoot poses were the most helpful / appealing to you? Which ones have you tried/will try?
IF YOU ENJOY THIS POST, YOU MAY ENJOY THESE, TOO!
THE BLOGGER: KATHRYN COFFMAN
Kathryn is the lead contributor + founder at FashionablyFrank.com. Obsessed with leading a life of balance, she started the blog in 2013. Since graduating college in 2016, she is now a digital marketing specialist through her business, Fashionably Frank Marketing. She believes a cup of coffee is the answer to life's problems + that all women should embrace a #girlboss mantra.